Is a way to improve the look of unattractive, faded, and/or disguising pigment that has changed over time. In some cases I would have to use the colour corrective pigment on the first session, which can make the brows appear a little on the orange or green side depending on the colour you have. Colour corrections can take up to 3 separate appointments to achieve desired results.
Price is £100 a session and can take a further 2 appointments to get desired colour.
If the brows are saturated in colour it is very hard to achieve the desired outcome. Laser removal would be the perfect option and then you can start from scratch. If opting out of laser removal please be warned that a colour correction (if saturated in colour) will not last as long and you may have to come back every 6 months for a colour boost. (£50)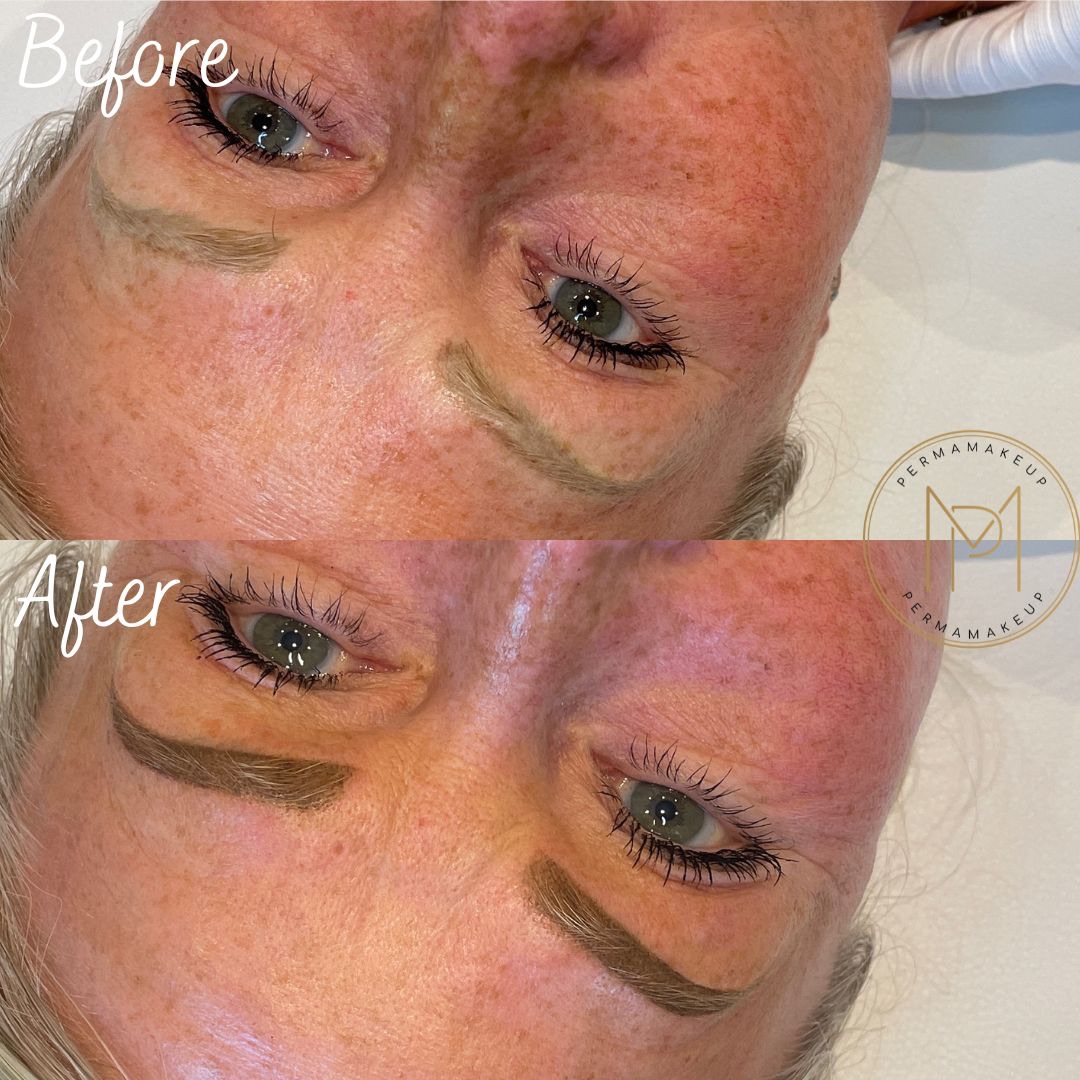 1ST NIGHT
Apply the tattoo plasters on the brows before bedtime. In the morning, gently damp the plasters to remove easily. Pull in same direction as hair growth.
1ST WEEK
Clean the brows every morning and evening with a damp cotton pad, patting the area.
Only apply the aftercare cream if brows become itchy, being careful not to leave any excess.
Do not pick or touch the small scabs that may appear.
AVOID FOR THE NEXT 2 WEEKS
Soaps, cleansers, creams or makeup on the area. Avoid facials, eyebrow tinting and plucking. Avoid abrasive products and rough towels. Avoid hot baths, sunbeds swimming, saunas and any other heat treatments.
THE HEALING PROCESS
Day 1-2 - Brows will appear bold and red.
Day 3-4 - Brows may develop scabs.
Day 5-7 - Scabs start peeling off, no picking or scratching.
Day 8-13 - Scabs are gone, brows appear lighter.
Day 14-28 - Return to normal skincare routine.
Day 35-70 - Come back for your touch up.
PLEASE REMEMBER
Always use sunblock once healed
The colour can fade up to 40% and will appear a lot lighter and uneven. That is what a touchup is for.
Superficial colour and dry skin will naturally come off during the healing process. The final look will show on week 4-6.