All you need to know about Microblading
Microblading is ideal for people who have:
*over plucked their brows
*fair coloured brow hair
*suffered from hair loss
*to apply brow pencil due to having sparse brows
*a desire for fuller and/or more defined brows.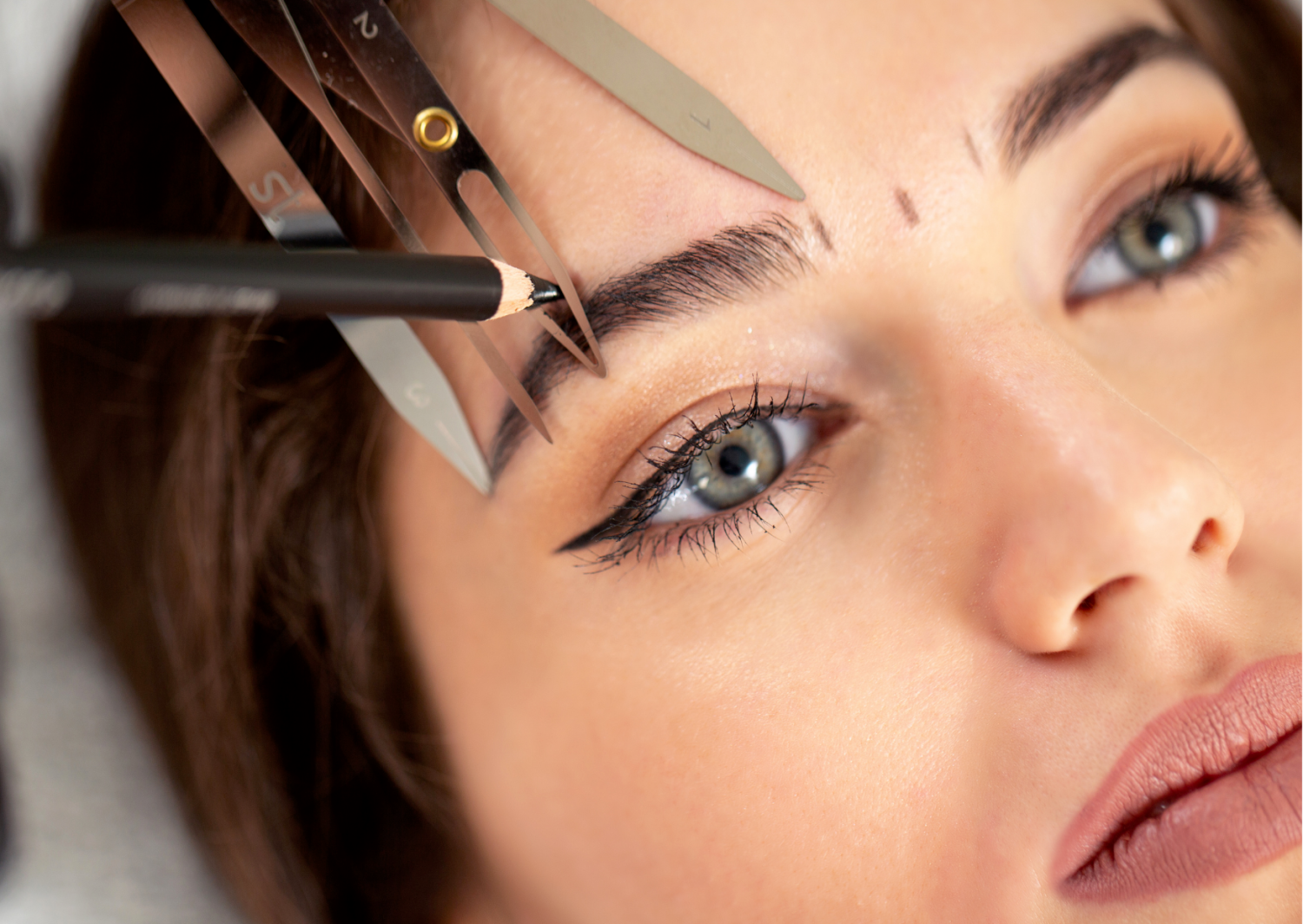 Advantages of Microblading
Each hair line in the brow can be drawn extremely precisely
Brows can be evenly shaped after the first pass through
An exact cut with sharp lines is created in one movement
Always a finely defined line after the skin closes
Very little bleeding
Faster healing process
Lasts between 12-24 months
Microblading is a cosmetic tattoo procedure that makes the brows look thicker and fuller. If you suffer with thin brows or have no hair at all, we can create natural looking brows using this technique. Unlike traditional tattooing that is permanent we use a product called pigment. The pigment may last up to 3 years and will fade but we would recommend you top up your colour yearly.
The process involves using a hand-held disposable microblade tool with needles.
Microblading involves breaking into the skin, and infections are possible if untrained people practice under unhygienic conditions.
The success of the microblading procedure will depend on the person performing it.
Microblading looks natural and gives you better defined brows. The treatment takes around 2 hours to complete. The results are amazing but the eyebrows will appear darker immediately after the initial treatment and will fade by up to 40% over the next couple of weeks. A touch may be needed.
Do not pick/tweeze/wax/perform electrolysis one week before procedure
Do not tan two weeks prior or have sunburned face
Do not have any type of facial/peel 2 weeks prior to treatment
Discontinue Vitamin A/Retinol products one month prior to treatment
Do not work out the day of the procedure.
Do not have botox 3 weeks prior
Do not take Fish Oil or Vitamin E one week prior (natural blood thinners)
Do not wax or tint your eyebrows 3 days before the procedure.
In order to avoid excessive bleeding and poor colour deposit:
Do not drink alcohol 24 - 48 hours before your tattoo
Do not consume coffee before your procedure
Do not take an aspirin or ibuprofen for pain relief (this thins the blood)
Use a fresh pillowcase
Let any scabbing or dry skin naturally exfoliate away. Picking can cause scarring or loss of color
No facials, botox, chemical treatments or microdermabrasion for 4 weeks
Avoid hot, sweaty exercise for one week
Avoid direct sun exposure or tanning for 4 weeks after procedure. Wear a hat when outdoors.
Avoid heavy sweating and long hot showers for the first 10 days.
Avoid sleeping on your face for the first 10 days
Avoid swimming, lakes, hot tubs for the first 10 days
Avoid topical makeup including sunscreen on the area
DO NOT rub, pick or scratch the treated area.
You will also receive an aftercare advice form. Please read and adhere to the advice, your eyebrows will thank you for it.
WHAT IF I HAVE HAD MICROBLADING/EYEBROW TATTOOING/PERMANENT MAKEUP BEFORE?
If you have had your eyebrows, eyeliner or lips done before, please contact us to set up a consultation. We want to see you in person and see if we can work with the existing pigment. Please don't forget your face is our business card, if we can not make the brows to our liking, we will not perform the procedure and will refer you out for tattoo removal. If you schedule an appointment without booking a consultation first, you will forfeit your deposit.
AM I A GOOD CANDIDATE?
Unfortunately, you are not a candidate for permanent cosmetics if any of the following apply to you:
- Under 18 years of age
- Pregnant or nursing (we recommend waiting three months after nursing due to hormonal changes for optimal healed results)
- Previous permanent makeup (brows, lips, eyeliner) By Approval Only
- History of keloids or hypertrophic scarring
- History of Epilepsy, MRSA, or Lupus
- Undergoing chemotherapy/radiation (at least a year out and requires doctor's clearance)
- Non-steroidal aromatase inhibitors, Letrozole etc. (chemotherapy)
- Type I Diabetic (requires doctor's clearance)
- Using Accutane (must be off for one full year)
- Currently taking Spironolactone (must be off of medication 4 weeks prior & 4 weeks after)
- Organ transplant
- Pacemaker or major heart problems
- Uncontrolled high blood pressure
- Currently taking oral or topical antibiotics (must be off for at least 30 days prior to appointment)
- Currently taking/using topical or oral steroids, prednisone etc. (must be off for at least 60 days prior to appointment)
- Currently treating any fungal or bacterial infections of the skin (must be off treatment for 4 weeks )
- Viral infections or diseases (cold/flu/eye infections)
- Those with transmittable blood conditions like HIV or Hepatitis
- Hemophilia, bleeding disorders
- Problematic Skin (Acne or bumps covering the Forehead or Brow Area)
- Skin irritations or psoriasis near the treated area (rashes, sunburn, acne, etc.)
- Chemical peels or PRP facial (at least 60 days prior)
- Facial laser treatment, IPL (at least 60 days prior)
- Had Botox in the last two weeks
- Poor general health
- Allergy to epinephrine, dermacaine, benzyl alcohol, lidocaine, or tetracaine
- Active cold sores (for lip blush)
- Hooded eyelids (for eyeliner)
- Currently have lash extensions (for eyeliner)
- Surgery 30 days before and/or after treatment
- Currently using or have used lash or brow serums in the past 8 weeks; avoid serum on area to be treated for a minimum of 8 weeks
-Using any skin care products that contain any retinol, glycolic acid, lactic acid, salicylic acid, or alpha hydroxyls
WILL YOU SHAVE OFF MY EYEBROWS?
No, we want to work with as much of the existing hair as possible. Once we finish drawing your brow shape using the golden ratio method, we will ask you for permission to remove (tweeze) any hair outside of the agreed shape.
HOW LONG DOES MICROBLADING LAST?
Microbladed eyebrows typically last one to two years for most people before they need a yearly touch up. Cosmetic tattoo treatments are considered permanent and will not wash off — however, they will fade over time and may need to be refreshed every 12 months to 18 months. Those who do not follow aftercare instructions properly may require more frequent microblading touch-ups.
DOES PERMANENT MAKEUP HURT?
At Permamakeup, our licensed makeup tattoo artists use two different types of numbing to help alleviate any discomfort. Having this service performed during your menstrual cycle may increase discomfort during the microblading process.
HOW LONG DOES IT TAKE FOR THE PERMANENT MAKEUP TO HEAL?
Approximately 14 days to heal. During that week, we encourage you to let it naturally exfoliate. This means keeping the permanent makeup out of water, sweat, steam, etc. Once the flaking period is complete, the result will appear lighter and the true color will come out after four weeks. As long as you're good at following the aftercare instructions, there shouldn't be a problem going to work or being out in public.
HOW LONG IS THE APPOINTMENT?
The appointment usually takes two to three hours, and most of the time is spent going over drawing the shape of your eyebrows and picking the right color in order to ensure that your eyebrow blading turns out perfect.
​CAN I SCHEDULE A CONSULTATION?
The consultation and procedure are typically both done in the same day, unless you have existing permanent makeup. In this case, please contact us beforehand to discuss your options.
YOU'RE TOO EXPENSIVE, I FOUND SOMEONE CHEAPER.
Permanent makeup is an extremely meticulous permanent cosmetic procedure, and microblading costs vary from artist to artist. Remember, this is your face, and the procedure is permanent. Our artists have trained with some of the top permanent makeup artists. When looking for a permanent makeup artist, do not nickel and dime your face. Microblading in Uk is not regulated, therefore anyone can do it. Please research local makeup tattoo artists, and most importantly, look at their healed work before you book an appointment. Paying less upfront might end up costing a lot more in the long run to fix.
CAN YOU MICROBLADE YOUR OWN EYEBROWS?
Absolutely not. Performing such an invasive procedure on your own face can scar you for life — pun intended. In order to achieve ideal results with microblading eyebrows, proper stretching of the skin is extremely important, which works together with adequate pressure. Without proper stretching, you will harm your skin and most likely cut too deep and cause undesired scarring.
IS MICROBLADING PERMANENT?
Because the color is implanted into the upper dermal layer of the skin and cannot be washed off, microblading brows is considered permanent. However, the pigment is implanted more superficially than a traditional tattoo, making it fade over time and requiring future touch ups.
WILL YOU DRAW THE SHAPE ON FIRST?
Yes, we won't start the process until you agree with the color selected and the shape.
CAN I WEAR MAKEUP AFTER MICROBLADING?
Do not wear makeup on the brows for at least two weeks after your procedure, but everywhere else is fine, being careful not to get it on the treated area(s).
IS THE SECOND APPOINTMENT NECESSARY?
For permanent makeup, at least two appointments are needed initially, at least 4 to 6 weeks apart. Touch-ups are done no earlier than four weeks after your initial procedure and no later than twelve. If you do not schedule your eyebrow tattoo touch-up within twelve, you will be required to pay the touch-up fee outlined in the touch-up prices. It is absolutely imperative to complete the touch-up treatment. Without it, the results will not be optimal. At the permanent makeup touch-up, we assess the color retention and make adjustments as necessary. Everyone heals differently and at different rates. If your cosmetic tattoo does not heal perfectly the first time, do not worry! We can always go bolder and add more density as well as correct any irregularities in the microbladed hair strokes during the touch-up.
HOW WILL MY EYEBROWS LOOK RIGHT AFTER THE MICROBLADING PROCEDURE? DO I NEED TO GO HOME AND HIDE FOR A COUPLE OF DAYS?
They will look great! They may be a little darker for a couple of days, but you shouldn't experience any bruising and will only have very minimal swelling. You can go out to dinner the same day — just don't drink alcohol because it makes you sweat, bleed (unlikely), bruise, and worse of all, it leads you to make questionable decisions like touching your eyebrows with dirty hands!
CAN YOU MICROBLADE OVER AN EXISTING TATTOO?
Sometimes. However, the old tattoo must be significantly faded for the hair strokes to show through and look natural. If you do have an existing tattoo, you need to schedule a consultation prior to booking a new client appointment.
I HAD MY EYEBROWS MICROBLADED SOMEWHERE ELSE, CAN YOU DO A TOUCH UP?
If you have been microbladed elsewhere and need a touch-up, please contact us for a consultation first then we can discuss your options for scheduling a touch up.
WHAT TO EXPECT DURING HEALING
The entire healing process will take from 4-6 weeks depending on your body regeneration and age. Your new eyebrows will go through several phases during the healing cycle. Itching and flaking may appear during the first 7 days post-microblading procedure. However, experience has shown that by strictly following these after-care instructions, these symptoms may quickly disappear.
The pigment will appear very sharp and dark immediately after the procedure. This is because the pigment is still sitting on top of your skin and has not yet settled in completely. The color of the pigment will soften gradually. Do not be alarmed if you see some pigment on the cotton pad/swab, as this is excess pigment and/or body fluid that is naturally exiting your skin.
Once the healing of the skin starts taking place, it will look like dandruff flakes or dry skin. However, this is just superficial color and dry skin being naturally exfoliated from your eyebrows. The final look of your eyebrows will be apparent approximately 30 days after your procedure.
Note that because of natural skin regeneration, after recovery period (peeling), brows might appear lighter than original. This might give you the impression that color is fading too quickly. Often even with proper care, clients may lose original hair strokes which make brows look uneven. This is normal. That is the reason why most customers need a touchup after 6-8 weeks. Never rub the treated area as it will disturb the skin from natural healing.
AFTER YOUR PERMANENT MAKEUP HAS HEALED
Protect your investment! Permanent cosmetics will require consistent care once healed to ensure a lasting and natural result.
- Permanent makeup can last anywhere from one to 2+ years depending on the client's lifestyle, skin type, and aftercare.
- Exposure to the sun and tanning beds can cause fading and discoloration of the pigment.
- When you are outdoors, always apply sunscreen to the treated area once completely healed to avoid excess fading or discoloration of the pigment.
- Maintain removal of unwanted brow hair outside of your microbladed shape by tweezing, waxing, threading, or razoring.
- Laser procedures such as hair removal or resurfacing will alter the pigment. Please inform your technician of any permanent cosmetics on your face.
- Additional makeup application may still be required post-procedure to achieve your desired look.
- For further sun protection, wear hats and sunglasses.
- Avoid anti-aging and exfoliating products such as retinols, glycolic, salicylic acid, benzoyl peroxide, etc. This will cause premature fading over time.
- Moisturized skin retains better! Keep yourself hydrated and always apply a daily moisturizer to your permanent makeup.
- Touch-ups are recommended every 18-36 months to maintain your results.